You are here
Business plan 2017-18
Categories:
Our strategy for 2016 to 2021 set out an ambitious vision for a more targeted, responsive and collaborative approach to regulation. Our business plan sets out the areas we will focus on over the coming year, as we adapt to a challenging and changing environment.
The combination of a growing and ageing population, more people with long-term conditions and a difficult economic climate poses a number of challenges. It means greater demand on services, more problems for people accessing care, and challenges for providers in maintaining or improving quality.
Some providers are breaking down traditional boundaries between hospital care, community-based services, primary medical services and adult social care. They are turning to new ways to deliver care using technology.
This plan shows how we will take forward the priorities that we set out in our strategy during 2017-18. We will deliver our operating model and support our people to perform at their best, ensuring they have up-to-date digital technologies so they can focus on our strategy priorities.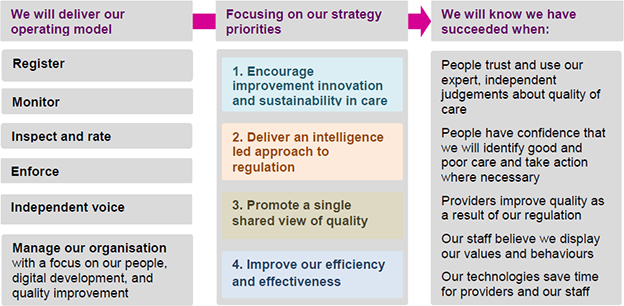 The areas we will focus on in 2017-18 include:
Implementing and developing our operating model.


Read more about this area

We will:

Carry out inspections based on risk or potential improvements in quality.
Assess the use of resources by NHS trusts.
Put in place better systems for collecting and analysing information about providers.
Set up cross-sector meetings at local level to identify system risks and test our approach to new models of care.
Publish think pieces and thematic reports, develop a shared adult social care quality commitment, and build the improvement narrative for the sectors we regulate.
Becoming a more digitally accessible organisation.


Read more about this area

We will:

Put in place new systems for digitally collecting information from providers.
Identify requirements for our online registration system.
Make it easier for people to share their experiences of care with us and improve how we share information within our organisation.
Improve our intranet and customer relationship management system, and continue to embed the use of our scheduling system.
Making our people's working lives better.


Read more about this area

We will:

Listen to and act on the feedback we receive through our staff survey.
Improve the skills and capabilities of our staff.
Improve equality of opportunity so that we make the best use of the diverse talent in our organisation.
Managing our organisation and our quality better.


Read more about this area

We will:

Use information about our quality to help us learn, and to inform how we improve and change our organisation.
Risk register
Our risk register sets out the risks that would prevent us delivering our purpose, and actions being taken to manage these risks. A quarterly update is presented to the board.
Last updated:

10 July 2017
---
Help us improve this page