You are here
Business plan
Categories:
Our 2019/20 business plan focuses on ten priorities. These aim to deliver our five-year Shaping the Future strategy and improve the experience of people who use health and social care services, the providers we regulate and the people who work for CQC.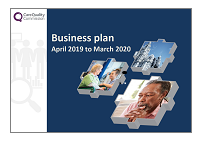 Our strategy sets out an ambitious vision for a more targeted, responsive and collaborative approach to regulation, so that more people get high-quality care.

In 2019/20, our focus is to improve registration and learn more about the use of technology in health and social care and how local systems are working for people who use services. We will also spend time testing and learning about how we could monitor, inspect and rate and use data in the future.
The ten priorities in our plan set out how we will do this.
Our ten priorities
Improve the experience of our people
Build our capacity and capability to deliver change and improvement effectively
Transform registration
Enable CQC to become intelligence driven
Deliver our programme of user-focused digital technology
Pilot and test new ways of working
Develop our regulation to support innovative and tech-enabled care provision
Deliver our role in whole-system regulation
Strengthen partnerships and collaboration with our partners
Deliver an effective financial planning approach
Previous business plans
Last updated:

05 July 2019