You are here
Celebrating excellence
Categories:

Organisations we regulate
In addition to meeting the legal requirements, we actively encourage you to celebrate your rating if you are rated outstanding or good.
There are a number of other ways to publicise your ratings to people using your service and the wider community. This includes placing your rating on appointment letters, displaying banners advertising your rating at your premises and highlighting it through local media.
We've produced graphics you can use on websites, emails, letterheads, large printed banners and in brochures. These are optional, and they are in addition to the statutory requirement for providers to display ratings at their locations and on their websites. They do not replace the widgets and posters that you may already be using.
The graphic elements must be used in line with our brand guidelines: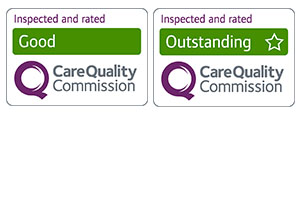 Rating badges
Highlight your good or outstanding rating on your marketing materials with these badges. These are available in JPEG format (suitable for use on the web) and as EPS files (suitable for print).
Download the rating badges
---
Graphic elements for banners
Download the required graphic elements to use when preparing a large printed banner to display outside your location or at events. These files are available in EPS format, suitable for high-quality print.
Download these graphic elements
Last updated:

09 January 2020
---
Help us improve this page