Page last updated: 12 May 2022
Winter 2017/18 saw an unprecedented demand for health and care support services. Emergency departments bore the brunt of this demand.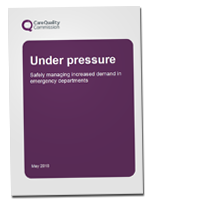 This report features practical solutions from staff. Frontline clinicians attended workshops to help us understand the issues they face. They identified what needs to change to keep services safe when facing surges in demand.
It calls for wider action for health and social care services to work together. A joint approach will help the whole health and care system to manage capacity as demand grows.
The same approach can encourage early and effective planning - for all periods of peak demand.
It presents the findings from:
our inspections of emergency departments over winter 2017/18
workshops aimed at understanding the issues facing staff and what needs to change
What we found
The report shows that our inspections have found:
evidence of good practice at emergency departments
examples of hospitals that planned for and managed increased numbers of patients
the quality and safety of urgent and emergency care remains a concern with:

50% of urgent and emergency services rated as requires improvement or inadequate overall
8% of services rated inadequate for safety
We found:
specific concerns around delayed ambulance handovers
people waiting for long periods of time before their first clinical assessment
patients who needed urgent care were not always identified in a timely way
Escalation policies were generally in place. These were not always followed or were not effective in coping with increased demand.
We found many hospitals caring for patients in inappropriate spaces, such as corridors. There were no plans in place for alternative safer accommodation.
Local system reviews
The government has asked us to review health and social care systems in 20 local areas. We're exploring how well local systems work together to support and care for people aged 65 and over. Part of this is to look at the way that emergency care provision and other local services affect each other.
In some cases, we saw good examples of systems working together to plan for winter pressures. Even so, some partners were not as involved in the planning process. Independent social care providers were often less engaged. As were voluntary, community and social enterprise organisations.
Our recommendations and next steps
A whole system approach is needed to tackle the problems created by increasing demand.
The report recommends solutions which focus on:
what can be done to help keep people well and reduce visits to emergency departments
what emergency departments can do to manage how patients flow through the hospital
ways to help avoid unnecessary admissions and ensure early discharge
The timeliness of the planning process needs to improve. As does the extent to which all partners across the system are involved in planning.
Across the country, there are examples of good practice in action at hospitals. These build on the best practice guide published by CQC in November 2017. Our report presents solutions alongside those examples of good practice.