Page last updated: 12 May 2022
We're calling on health services to do more for children at risk of harm. Children and young people have the right to get the care that they need, when and where they need it.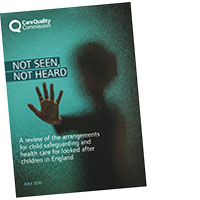 Healthcare services and other organisations that work with children and young people have a responsibility to keep them safe. 
Vulnerable children and young people in England are not getting the help they need when and where they need it. The risks of harm to many children are revealed with the right questions and support.
In our review of 50 local area inspections, we found health and social care services failing to adequately support young people. We also found examples of innovative and outstanding care.
Children and young people told us:
"I don't know why the system thinks a 16 year old is an adult. Kids in care haven't even had a childhood. How can we be an adult at 16?"
"When we've been moved out of borough, the care we're getting suddenly gets cut off then we have to start again when we go somewhere new, usually at the end of the waiting list."
"My counsellor was amazing. He told me about his experience and background and showed he cared. The first day I met him I told him everything."
"A lot of kids in care, we don't know our history, we don't know if there's family health problems. It would be good to give us a chance to have an MOT at 18 so we know where we are. We've got no one to ask about inherited things. We don't know anything."
"I felt let down by the adolescent CAMHS unit. Once I was 18 it was as though I was at the end of the road".
Find out what young people had to say about their care in our review.
It's everyone's responsibility to safeguard children and young people. 'Not Seen, Not Heard' has identified four key recommendations to ensure that we strive to protect and promote the health and welfare of young people.
Our findings
Two out of every three young people we spoke to told us they didn't feel involved in their care.
Most areas we visited couldn't prove to us they were making a difference to children and young people.
Health staff need to improve how they share information with the right people at the right time
When young people are old enough to leave children's care services it can be very difficult for them to move to adult services.
Our recommendations:
Children and young people must be actively engaged in their care
Services must ensure their focus is on outcomes
More is done to identify children at risk of harm
Children and young people must have access to the emotional and mental health support they need