Published: 3 July 2018
Page last updated: 3 July 2018
'Beyond barriers' looks at how services are working together to support and care for people aged 65 and over.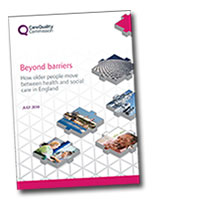 Many older people have complex and long-term care needs that need more than one professional and more than one service. Their experience depends on how well services work together with and for them, their families and carers.
We have completed a review of local health and social care systems in 20 local authority areas. We have also published a report for each area in this programme.
---
What we did
We reviewed how the local area works within and across three key areas:
Maintaining people's health and wellbeing at home


Care and support when people experience a crisis


Supporting people when they leave hospital
What we found
Organisations intended to work together but mostly focused on their own goals


Although there was good planning between services, the way services were funded did not support them to work together


Organisations:

were prioritising their own goals over shared responsibility to provide person centred care
did not always share information with each other which meant they weren't able to make informed decisions about people's care
were not prioritising services which keep people well at home
planned their workforce in isolation to other services



The regulatory framework focuses only on individual organisations.
Our recommendations
Reform of planning and commissioning of services. An agreed joint plan, funded in the right way, should support older people in their own homes, help them in an emergency, and then to return home safely.


A new approach to system performance management. This would measure how organisations collectively deliver improved outcomes for older people.


Joint workforce planning. This would allow flexible and collaborative approaches to staff skills and career paths.


Better oversight of local system performance. New legislation so CQC could regulate how people and organisations work together to support people to stay well.