You are here
Better care in my hands: A review of how people are involved in their care
Better care in my hands: A review of how people are involved in their care
Categories:
Better Care In My Hands describes how well people are involved in their own care and what good involvement looks like.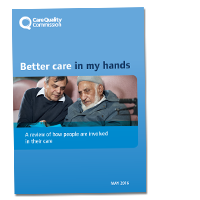 People's right to being involved in their own care is enshrined in law in the fundamental standards of care. It is an essential part of person-centred care and leads to better and often more cost effective outcomes.
This report is based on newly analysed evidence from our national reports and inspection findings, as well as national patient surveys and a literature review. It identifies what enables people and their families to work in partnership with health and social care staff and illustrates this with good practice examples from our inspection findings.
Our key findings
Just over half of people asked say they feel definitely involved in decisions about their health care and treatment.
Women who use maternity services are particularly positive about how well they are involved in decisions about their care.
We found examples of good practice of people's involvement in their care in our inspections over the last year.
There has been little change in people's perceptions of how well they are involved in their health or social care over the last five years.
Some groups of people are less involved in their care than others. They are:

Adults and young people with long term physical and mental health conditions.
People with a learning disability.
People over 75 years old.

We have also reported a lack of progress over the last six years in involving people in their care when they are detained under the Mental Health Act.
Our recommendations
Our evidence points to some 'enablers' that service providers, commissioners and partners in the voluntary and community sector can put in place to support a culture of care that involves people as they use different services.
For service providers
We encourage service providers to focus their efforts on ensuring that the following measures are in place:
Personalised care plans – written with people, for people, and with their wishes and preferences clearly identified and monitored.
The sustained and supported involvement of families and carers in the care of their loved ones.
The coordination of people's involvement in their care as they move between services – for example, through the use of health and care passports and the provision of community and peer support programmes.
For commissioners
We encourage commissioners to support this effort by making sure that there is:
Accessible information about health and care options and treatment or support for people and their families/carers
Flexible advocacy provision as people use different services
Coordinated community and peer support for people to manage their care through programmes with voluntary sector partners
For CQC
CQC will use the findings from this review to:
Encourage the development of a shared view of the quality of people's involvement in their care
Develop a framework for assessing how well people are involved in their care as they use different services
Explore options to strengthen and coordinate national survey questions in this area
Last updated:

29 May 2017