You are here
State of Care
Categories:
---
State of Care is our annual assessment of health and social care in England. The report looks at the trends, shares examples of good and outstanding care, and highlights where care needs to improve.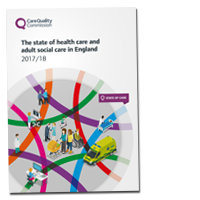 This year's report finds that most people in England receive a good quality of care. Our ratings show that quality overall has been largely maintained from last year, and in some cases improved, despite the continuing challenges that providers face.
Some people told us about the outstanding care they have received and how some individual services have changed their lives for the better. Others told us about the poor and sometimes disjointed care they have received.
We found that people's experiences of care often depend on how well local systems work together where they live. Some people can easily access good care, while others cannot get the support they need. They may experience disjointed care, or only have access to providers with poor services.
This builds on what we saw in Beyond barriers, our report looking at how services work together to support and care for people aged 65 and over.
5 factors affecting the sustainability of good care
The challenge for all local health and social care services is to recognise the needs of their local populations and find sustainable solutions that put people first. In this context, we have considered 5 factors that affect the sustainability of good care for people:
Access
Access to care varies from place to place across the country. Some people cannot access the services they need, or their only reasonable access is to providers with poor services.
Quality
The overall quality of care in the major health and care sectors has improved slightly. At the same time, too many people are getting care that is not good enough.
Chart: Overall ratings by sector, 2017 and 2018
The safety of people who use health and social care services remains our biggest concern.
There were improvements in safety in adult social care services and among GP practices. But while there were also small safety improvements in NHS acute hospitals, too many need to do better. NHS mental health services also need to improve substantially.
Workforce
Workforce problems have a direct impact on people's care. Getting the right workforce is crucial in ensuring services can improve and provide high-quality, person-centred care.
Each sector has its own workforce challenges, and many are struggling to recruit, retain and develop their staff to meet the needs of the people they care for.
Demand and capacity
Demand is rising, not only from an ageing population but from the increasing number of people living with complex, chronic or multiple conditions, such as diabetes, cancer, heart disease and dementia.
Providers face the challenge of finding the right capacity to meet people's needs. Services need to plan – together – to meet the predicted needs of their local populations, as well planning for extremes of demand, such as sickness during winter and the impact this has on the system.
Funding and commissioning
Care providers need to be able to plan provision of services for populations with the right resources, so good funding and commissioning structures and decision-making should be in place to help boost the ability of health and social care services to improve.
Funding challenges of recent years are well known, and in June 2018 the government announced an extra £20.5 billion funding for the NHS by 2023/24. However, at the time of publication, there is no similar long-term funding solution for adult social care.
Map
Use the map below to explore ratings by location and download ratings reports for local authorities. You can also choose to view ratings reports by clinical commissioning group (CCG) by clicking the diamond icon under the search box.

See the comprehensive version of the map, including unrated services.
These maps are based on ratings at 31 July 2018. Use our site search to find the current ratings for services in your area.
Previous State of Care reports
You can read our reports about the state of health and adult social care in England from previous years on The National Archives website.
Last updated:

09 July 2019
---
Help us improve this page