You are here
The state of care in urgent primary care services
The state of care in urgent primary care services
Categories:
The state of care in urgent primary care services presents findings from our programme of comprehensive inspections of urgent care centres, NHS 111 services and GP out-of-hours services.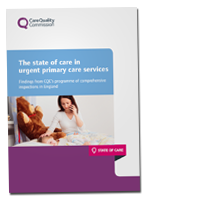 Urgent primary care services play a vital role in England's healthcare system. They are the first step to ensure that people are seen by the professional best suited to deliver the right care and in the most appropriate setting.
A quick, safe and effective response from these services provides a good outcome for patients and takes pressure off other parts of the urgent care system.
---
What we did
We present some common themes and characteristics that we have found from our inspections.
We have included the perspectives of both providers and voluntary groups representing patients, and discussed the themes with CQC's External Advisory Group for urgent care services.
What we found
Urgent care services are an essential part of the healthcare system, particularly in taking pressure off other parts of the NHS at times of peak demand.
We have found that urgent primary care services have been able to improve. Overall, the quality is good – although one in 10 services still require some improvement, particularly in initial assessment of people and timeliness of response to urgent needs.
Urgent care providers face pressures with staffing and workforce planning. This is compounded by the reality of unsocial working hours and high reliance on self-employed clinicians
Many providers experience difficulties in accessing people's medical records.
NHS 111 in particular has the potential to take pressure off the NHS – and provide a better experience for people by giving advice and treatment in one place. However, to achieve this it must be adequately resourced. Commissioners need to support providers, take action if they are not meeting their contracts and integrate services more closely.
Many people are not aware of the range of urgent care services available. There is a need for more public information – and consistency of service provision.
Last updated:

16 July 2020