Page last updated: 12 May 2022
The state of care in NHS acute hospitals 2014 to 2016 presents findings from our programme of NHS acute comprehensive inspections.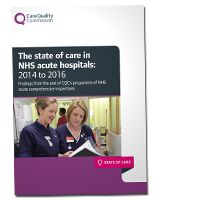 The report captures what we have learned from three years' worth of inspections. It gives a baseline on quality that is unique in the world – and also shows that it is possible, even in challenging times, to deliver the transformational change that is needed if the NHS is to continue delivering high-quality care into the future.
What we did
Between September 2013 and June 2016 we completed inspections of all 136 NHS acute non-specialist trusts and all 17 specialist trusts. Our inspection reports give a more detailed understanding of the quality of NHS care than ever before – at trust level, and also at an individual core service level.
What we found
Most hospitals are delivering good quality care and looking after patients well. Our reports highlighted many examples of how hospitals are improving and continuing to improve the quality of care they offer, even though there are constraints. We encourage trusts to follow this good practice to improve their own services.
But we also found that some trusts have blind spots about the quality of care they are delivering in a particular core service, even in some trusts rated good overall.
All hospitals told us that patient safety was their top priority, but too often they did not have an effective safety culture or reliable systems to ensure this. Many of the inefficiencies we saw can be avoided, such as hospital acquired infections, or are caused by poorly coordinated care.
The overarching message from our inspections is that effective leadership delivers high-quality care. In hospitals rated good or outstanding, the trust boards had worked hard to create a culture where staff felt valued and empowered to suggest improvements and question poor practice. Where the culture was based around the needs and safety of patients, staff at all levels understood their role in making sure that patients were always put first.