You are here
The state of care in independent doctor and clinic services providing primary medical care
The state of care in independent doctor and clinic services providing primary medical care
Categories:
This report presents findings from an analysis of a sample of reports from our comprehensive inspection programme of independent doctor and clinic services providing primary medical care in England.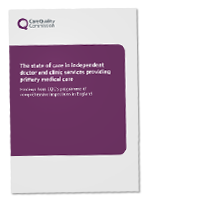 It gives an overview of care from inspection findings for doctors (private GMC-registered GPs and clinicians) and clinics that provide primary medical services in the independent or private sector – that is those not provided by NHS organisations. These range from individual single-handed practitioners to private organisations that may operate for one or more days a week in private practice.
We analysed a sample of 85 inspection reports for independent doctor and clinic services and themes from a review of inspection reports for 38 independent slimming clinics.
---
What we found
Many services were responding to the needs of their patients, delivering caring services tailored to people's requirements and needs. However, a number were not meeting the necessary regulations and not delivering safe and effective care.
We found that some issues are specific to private GPs and clinics, as the nature of consultations can be different from NHS services, and many patients may be accessing care from a variety of non-NHS and NHS sources at the same time.
The caring key question had the most positive feedback and fewest concerns, whereas most concerns fell under the safe key question. Our main areas of concern related to:
safe and effective prescribing
awareness of safeguarding and establishing patients' identity, particularly for children and their parents or legal guardians
arrangements for clinical oversight, governance frameworks and quality monitoring and improvement
recording details and managing patients' care records
gaining appropriate consent
sharing information with a patient's NHS GP or other health professionals in accordance with guidance from the General Medical Council (GMC)
On re-inspection, providers showed improvement in a number of areas where we had found concerns. Where they did not, we have taken the necessary enforcement action.
Last updated:

28 March 2019