Page last updated: 12 May 2022
The state of care in general practice 2014 to 2017 presents findings from our programme of comprehensive inspections of GP practices.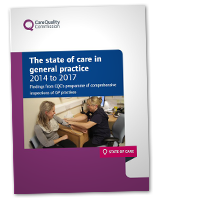 This provides most detailed analysis yet of the quality and safety of general medical practice in England.
GPs are facing ongoing pressures around capacity, patient demand and workload. The best general practices are driving change and embracing innovation to make sure they are able to deliver even better care into the future.
---
What we did
We have completed comprehensive inspections of all GP practices in England.
In October 2014, we formally introduced our new regulatory regime for primary medical services. These expert-led, specialist inspections focused on what matters most to people using services – whether they are safe, caring, effective, responsive and well-led. They also introduced performance ratings of 'outstanding', 'good', 'requires improvement' and 'inadequate' to help people make informed choices about their healthcare.
What we found
At the end of our inspection programme of GP practices:
4% were rated outstanding, 86% were good, 8% were requires improvement and 2% were inadequate overall
82% of practices that were first rated as requires improvement or inadequate improved their rating following their most recent inspection.
Regulation is supporting people to receive better care in general practice by:
setting clear standards of quality and safety and ensuring providers meet them
sharing examples of what is working well
encouraging extra support for the sector through the General Practice Forward View.
General practices with the highest ratings:
demonstrate strong leadership
understand everyone's responsibilities in the practice team
have a clear knowledge of the different needs of their patient groups
recognise the importance of working as part of their wider local health economies.