You are here
State of Care
Categories:
Demands are increasing on health and social care. State of Care – our annual overview of health and social care in England – looks at the trends, highlights examples of good and outstanding care, and identifies factors that maintain high-quality care.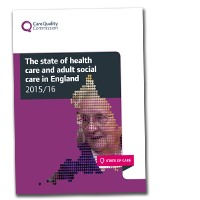 Most services provide people with good care, but variation exists. Some care services are closing, increasing pressure on other services including GP practices and hospitals. Strong leadership and collaboration will be important to ensure services improve and quality is maintained. Read the interactive summary.
The ratings picture
This year's report provides the most comprehensive view yet of our expert-led inspections.
Our inspections have found that many health and care services in England are providing good quality care despite a challenging environment, but that substantial variation remains.
In most cases, our inspections lead to services being given a rating to help people make informed choices about their care. Enter an address in the map below to explore ratings of acute hospitals, GP practices and adult social care services.

Note: The map shows a snapshot of ratings on 31 July 2016. Check a service's profile page for their current rating.
Improvement
Around three-quarters of NHS services, care homes, general practices and other services that had been rated as 'inadequate' were able to improve their ratings following re-inspection.
But although some health and care services are improving, we are also starting to see some services that are failing to improve and some deterioration in quality.
---
Chart showing change in rating on re-inspection across all sectors, where initial rating was inadequate or requires improvement, as at 31 July 2016.
---
Social care sector under pressure
State of Care finds that the sustainability of the adult social care market is approaching a tipping point. This view is based on the evidence of inspections, information received through our market oversight function, and external data.
The fragility of the adult social care market is now beginning to impact both on the people who rely on these services and on the performance of NHS care. The combination of a growing and ageing population, more people with long-term conditions, and a challenging economic climate means greater demand on services and more problems for people in accessing care.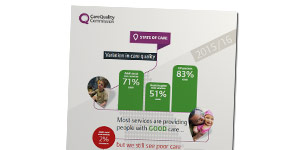 Download our State of Care infographic using the link below.
This is translating to increased A&E attendances, emergency admissions and delays to people leaving hospital, which in turn is affecting the ability of a growing number of trusts to meet their performance and financial targets.
Click in the legend to turn items on and off. Use the scroll bars at the top of the chart to zoom by date.
Previous State of Care reports
You can read our reports about the state of health and adult social care in England from previous years on The National Archives website.
Last updated:

29 May 2017
---
Help us improve this page