You are here
State of Care
Categories:
---
State of Care is our annual assessment of health and social care in England. The report looks at the trends, highlights examples of good and outstanding care, and identifies factors that maintain high-quality care.
This year's report shows that the quality of care has been maintained despite some very real challenges. Most of us are receiving good, safe care and many services that were previously rated inadequate have recognised our inspection findings, made the necessary changes and improved.
The fact that quality has been maintained in the toughest climate most can remember is testament to the hard work and dedication of staff and leaders. However, as the system continues to struggle with increasingly complex demand, access and cost, future quality is precarious.
Health and care services are at full stretch
The complexity of demand for health care and adult social care services in England continues to rise.
The number of people with complex, chronic or multiple conditions is increasing. We have an ageing population, and the total number of years people can expect to live in poorer health continues to rise.
These and other factors present different pressures in different parts of the system.
In cancer treatment, for example, there has been a fairly steady increase in the total number of people being treated following a GP referral, but they are having to wait longer for their treatment to start.
Care providers are under pressure and staff resilience is not inexhaustible
Health and care staff, and the services they work for, are under huge pressure. The combination of greater demand and unfilled vacancies means that staff are working ever harder to deliver the quality of care that people have a right to expect. However, there is a limit to their resilience.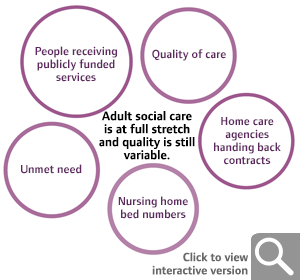 The quality of care across England is mostly good
Through our comprehensive inspection and ratings programme, we now have a baseline picture of the quality of health and adult social care in England.
The majority of the care that people receive is good, and there are providers and services that deliver outstanding care. Among the outstanding providers are 2% of adult social care services, 6% of NHS acute hospital and mental health core services, and 4% of GP practices.
But far too much care needs to improve. We rated 3% of NHS acute hospital core services, 2% of GP practices and 1% of adult social care and NHS mental health core services as inadequate at 31 July 2017. In addition, 37% of NHS acute core services were rated as requires improvement, as were 24% of NHS mental health core services, 19% of adult social care services and 6% of GP practices.
Enter an address in the map below to explore ratings of services in England as at 31 July 2017. Click on a local authority area to download a ratings report by area.

Use our advanced map for additional controls, and to view ratings reports by CCG.
Quality has improved overall, but there is too much variation and some services have deteriorated
Hard work and determination from many providers and their staff has meant people are receiving safer, more effective, and compassionate and high-quality care – services have recognised our inspection findings and made the necessary changes to get better.
While there has been much improvement, some services have deteriorated in quality. Where we have re-inspected providers originally rated as good overall, the majority have remained good. But 26% of mental health services and 23% of adult social care services originally rated good dropped at least one rating, as did two out of the 11 NHS acute hospitals. Only 2% of re-inspected GP practices deteriorated.
There are also substantial variations in the quality of care that people are receiving – within and between services in the same sector, between different sectors, and geographically.
To put people first, there must be more local collaboration and joined-up care
Better care is often where providers are working together to provide a more seamless service, one that is built around the often multiple, or complex, needs of individuals. We have found this where there is joined-up care – local health and care leaders collaborating to engage staff, people who use services and local partners to respond to the challenges they face.
There is wide variation in how health and social care systems join up. Too many people receive fragmented care – care that is built around the priorities or targets of the services, rather than people's needs.
To deliver good, safe, well coordinated care that is sustainable into the future, providers will have to think beyond their traditional boundaries and reflect the experience of the people they support.
We found that services that did well had leaders who were enthusiastic and committed to equality, a culture of equality and human rights, and applied 'equality and human rights thinking' to quality improvement.
Previous State of Care reports
You can read our reports about the state of health and adult social care in England from previous years on The National Archives website..
Last updated:

18 July 2018
---
Help us improve this page