Page last updated: 25 June 2019
This report shows what we found from a review on the state of oral health care in care homes across England.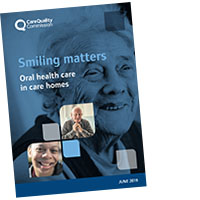 Overview
The report reveals an extensive lack of awareness of NICE guidelines.
It concludes that residents are not supported to maintain and improve their oral health.
---
What we did
Dental professionals accompanied our adult social care inspectors on 100 routine inspections.
What we found
Among the homes visited:
most had no policy to promote and protect people's oral health (52%)
nearly half were not training staff to support daily oral healthcare (47%)
73% of care plans reviewed only partly covered or did not cover oral health
it could be difficult for residents to access dental care
10% of homes had no way to access emergency dental treatment for residents
We recommend
A cross-sector approach including:
sharing best practice
repeating and reinforcing the guidance
mandatory staff training
oral health check-ups for all residents moving into a care home
a multi-agency group to raise awareness
Case study: implementing the guidelines
Bay Tree House provides care and accommodation for up to 16 older people.
The home's manager was told about the NICE oral health guidelines at a local providers' support group. She made them a mandatory reading topic for her care staff.
She then organised a meeting where staff discussed the importance of the guidelines and what changes they needed to make. This prompted staff to talk about whose teeth they had concerns about, but hadn't known what do about it before.
NICE's recommended oral health assessment tool is now completed at least monthly for each person living in the home. As a direct result, 13 people have now seen the dentist and everyone has their tooth brushes changed at least every three months.
The home used a domiciliary care dentist, as transporting people to a high street dentist would have proved very difficult. They were able to receive new crowns, fillings and have their dentures refitted. The dentist also checked the oral health of anyone who wasn't eating. This meant they could suggest a softer diet or, if there were no problems, staff could focus on other ways to support people.
Case study: oral health champion
Northbourne is a care home providing care, support and accommodation to 33 older people.
The deputy manager was appointed as oral health champion, having attended specific oral health training provided locally by the NHS. They are responsible for staff training in oral health, particularly for new staff joining the team.
Following the appointment, the care home has committed to:
follow NICE oral health guidelines
make sure that every resident in the care home has an oral health assessment
make oral health a key part of the holistic care offered at the home.
An NHS representative visits the home each year to check on these commitments.
The care home uses a domiciliary dental service to carry out routine checks of residents' oral health, as well as emergency treatment. If a resident needs an external dental appointment, the home would manage it in the same way as any other appointment, for example attending hospital.