You are here
Monitoring the Mental Health Act report
Monitoring the Mental Health Act report
Categories:
Monitoring the Mental Health Act in 2016/17: Amendments
We are currently amending this document after our analysts found that we had displayed some data gathered by Mental Health Act reviewers on their visits in an inaccurate way. We will publish the updated report in November 2018.
An explanation for the amendments:
Up until 2015-16, we used 'Yes/No' to document whether providers could show evidence of patient involvement in care planning.
In 2015-16, we added an option for Mental Health Act reviewers to document this as 'Requires improvement'. This gave reviewers the option of documenting that the provider had shown some evidence of recording patient information, but it still required improvement.
When working on the 2016/17 report, our analysts found that reviewers had been inconsistent in how they had documented this information. Some reviewers had recorded patient involvement just as 'Yes' or 'No', while others had recorded as 'Yes', 'No', or 'Requires Improvement'.
In preparing the report, we sought to present the information in the 'Yes/No' style to show a trend from past results. However, in doing so we combined the responses of 'requires improvement' with the 'No' responses, which was inaccurate. As a result, we have amended the report.
Download the full list of amendments:
Monitoring the Mental Health Act in 2016/17, our annual report on the use of the Mental Health Act (MHA), looks at how providers are caring for patients, and whether patient's rights are being protected.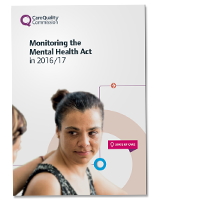 Overview
During 2016/17, we carried out 1,368 monitoring visits, met with 4,114 patients and required 6,475 actions from providers.
Our Second Opinion Appointed Doctor service carried out 14,594 visits to review patient treatment plans, and changed treatment plans in 26% of their visits.
We received 2,353 complaints and enquiries about the way the MHA was applied to patients.
We were notified of 186 deaths of detained patients by natural causes, 54 deaths by unnatural causes and 7 yet to be determined verdicts.
We were notified of 642 absences without leave from secure hospitals.
Our findings
We have seen limited or no improvement in the key concerns we have raised in previous years.
We found:
32% (1,034 of 3,253) of care plans reviewed showed no evidence of patient involvement. This was 29% last year.
17% (594 of 3,434) showed no evidence of consideration of the patient's particular needs. This was 10% last year.
31% (550 of 1,788) showed no evidence of the patient's views. In 2015/16, 26% had not been recorded.
17% (588 of 3,372) showed no evidence of consideration of the least restrictive options for care. This compares to 10% of records last year.
24% (570 of 2,403) showed no evidence of discharge planning, compared with 32% last year.
Previous Monitoring the Mental Health Act reports
Last updated:

13 November 2018
---
Help us improve this page