You are here
Monitoring the Mental Health Act in 2019/20: The Mental Health Act in the coronavirus (COVID-19) pandemic
Monitoring the Mental Health Act in 2019/20: The Mental Health Act in the coronavirus (COVID-19) pandemic
Categories:
Monitoring the Mental Health Act is our annual report on the use of the Mental Health Act (MHA). It looks at how providers are caring for patients, and whether patients' rights are being protected.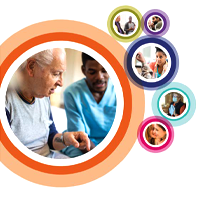 This year's report puts a specific focus on the impact that the coronavirus (COVID-19) pandemic has had on patients detained under the MHA, and on the services that care for and treat them.
The pandemic has presented mental health services with an unprecedented challenge. Services have been faced with the difficult balance of a duty of care towards patients while at the same time upholding the principle of least restriction.
It is vital that we share with providers, mental health care staff, system stakeholders and policy makers, the learning from the initial stages of the pandemic so that this can be applied as quickly as possible in the current wave of coronavirus and any future resurgence.
The majority of the findings in the report are drawn from a combination of our remote monitoring carried out during the pandemic and contacts both with services and national health system bodies. The pandemic has had an unprecedented impact across the system, and this will continue to be felt for some time as we enter a challenging winter period and beyond.
Many of the services we considered through our remote monitoring coped well with the pandemic situation. In particular, we found that services that focused the most on carefully applying the principles of least restriction were the most successful in empowering their patients (and staff) to cope with the extra restrictions imposed on society in general, especially during the first national lockdown.
Good services also put emphasis on care planning to involve and empower patients, as well as co-production with patients in order to improve the ward environment.
Our evidence and findings point to the actions we want to see to support people subject to detention under the MHA.
In April 2020, we moved most of our MHA monitoring to remote technologies and we have continued to use these through the pandemic. We will return to regular, unannounced site visits once it is safe to do so. In the meantime, we will continue to evaluate our remote MHA methodology and develop it to make improvements where necessary.
---
Previous Monitoring the Mental Health Act reports
Planning for individuals' discharge from hospital continues to be essential and is particularly important during the pandemic period due to the increased burden on all services, including those in the community. It is vital that discharge planning is carried out in co-production with patients and their families/support networks in order to ensure better outcomes.

Some services showed exemplary practice in the co-production of care with patients, including infection control measures, and where this was done patients were generally supportive and cooperative with the steps to limit coronavirus infection. Patients must be involved in decisions about their care, including infection control. Where this is done, the negative impact of restrictions on detained patients during a pandemic can be limited.

In many services the physical environment requires modernisation and doing so would have the added positive impact of making infection control easier. Modernising physical estates would help with infection control measures.

Some services continued to uphold restrictions on patients' movement, activities and leave for longer than seemed necessary, which we saw could have an adverse impact on patients' wellbeing. Services should recognise the significant impact restrictions on leave of absence and activity can have on detained patients and ensure these are lifted as quickly and as safely possible to avoid very damaging 'closed cultures' from emerging.

Many services invested in software to help detained patients to stay connected with their family and other sources of support during the pandemic. Some also lifted restrictions around the use of technology such as mobile phones and tablet computers. Relaxing the rules around using personal technology, such as mobile phones, should continue in future, and services should prioritise linked issues such as WiFi connectivity in future estates development.

Detained patients' access to advocacy services was made more difficult during the pandemic, but such services played an even more crucial role where patients' lives were more limited by infection control measures. We believe that advocacy should move to be offered on an opt-out basis in future.

We observed the use of remote technology such as video conferencing for clinical meetings and assessments, as well as assessments for detention, tribunal procedures and advocacy services. We also put in place a remote Second Opinion Appointed Doctor service. There needs to be careful evaluation of using remote technology should aspects of them continue after the pandemic abates.

Last updated:

02 February 2021