You are here
Monitoring the Mental Health Act in 2018/19
Monitoring the Mental Health Act in 2018/19
Categories:
Monitoring the Mental Health Act is our annual report on the use of the Mental Health Act (MHA). It looks at how providers are caring for patients, and whether patients' rights are being protected.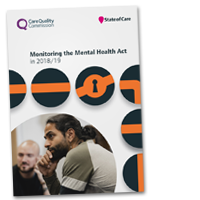 Overview
In 2018/19:
We carried out 1,190 visits, met with 4,436 detained patients, spoke with 179 carers, and required 4,477 actions from providers.
Our Second Opinion Appointed Doctor service carried out 14,354 visits to review patient treatment plans, and changed treatment plans in 29% of their visits.
We received 2,276 enquiries about the way the Mental Health Act was applied to patients and investigated complaints from six people.
We were notified of 195 deaths of detained patients, of which 136 were known to be of natural causes, and 16 deaths of patients on CTO, of which nine were known to be natural causes. A total of 39 deaths were known to be of unnatural causes for both detained patients and CTO patients.
---
What we found
Through our MHA monitoring visits in 2018/19 we found:
Services must apply human rights principles and frameworks. Their impact on people should be continuously reviewed to make sure people are protected and respected.
People must be supported to give their views and offer their expertise when decisions are being made about their care.
People who are in long-term segregation can experience more restrictions than necessary. They also may experience delays in receiving independent reviews. This is particularly true for people with a learning disability and autistic people.
People do not always get the care and treatment they need. Some services struggle to offer appropriate options, both in the community and in hospital.
It is difficult for patients, families, professionals and carers to navigate the complex laws around mental health and mental capacity.
---
Involving people in care planning
The Mental Health Act Code of Practice says people should be fully involved in decisions about their care, support and treatment.
We found that the number of services meeting the basic expectations of the Code have improved, but this is still not good enough.
In 2018/19, we recommended that patient involvement was absent or needed to improve in 37% of care plans that we reviewed.
19% of care plans showed insufficient or no evidence that a person's diverse needs were considered. 17% showed insufficient or no evidence that the service had considered the minimum restriction on a patient's liberty.
In 11% of care plans we reviewed, we found no evidence of patient involvement at all.
Mental Health Act reviewers also look at patient records for evidence of that carers have been involved appropriately.
In 2018/19:
12% (369) showed no evidence that carers have been involved appropriately
20% (633) showed some evidence but required improvement
68% (2,175) showed good evidence of carer involvement
Examined care plans showing evidence of patient involvement, views, diverse needs and minimum restriction, 2018/19
---
Last updated:

11 February 2020