Published: 14 June 2017
Page last updated: 12 May 2022
Categories
Organisations we regulate
We spoke to staff, patients and local patient representative groups at eight trusts that have shown significant improvement.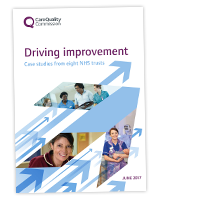 We set out to explore what a selection of NHS trusts had done to become 'well-led'. We chose eight trusts that had achieved a significant improvement since a previous inspection.
We asked people in those trusts how they had achieved improvements, looking at the steps their leaders had taken and the effect of those actions on staff and patients.
We interviewed people from each trust, including chief executives, medical and nursing directors, non-executives, heads of communications, frontline staff, patient representatives and external stakeholders.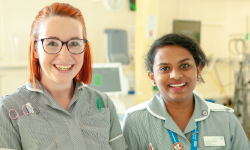 New case study: Northampton General Hospital NHS Trust
Northampton General Hospital was rated as requires improvement following the trust's first comprehensive inspection in January 2014.
Read the full case study to find out how the hospital improved its rating to good and to see what the trust are doing to continue on their journey of improvement.
Key themes
Reaction to initial inspection report/rating
Trusts were able to make rapid improvements when leaders viewed our inspection report as an opportunity to drive change.
Leadership
Leaders knew they needed to be visible and approachable in order for staff to feel supported.
Cultural change
Trusts knew that it was not enough to create an improvement plan – they had to engage and motivate their staff to help drive it and move from a culture of blame to one that celebrates success. They also recognised the need to tackle equality and diversity issues relating to staff and patients and in the wider community.
Vision and values
Leaders placed an emphasis on getting to know how staff felt about working at the trust and understood that staff needed to have ownership of the values if they were to be meaningful.
Governance
Addressing problems with governance was a priority for most of the trusts. The right connections needed to be in place from board to ward.
Improving safety
Improving trusts ask questions about the quality of their services.
Patient and public involvement
Taking the views and experiences of patients and the public into account is vital to making improvements.
Looking outwards
Trusts pointed to the power of being open with staff and the public.
CQC engagement
As well as identifying problems and helping trusts develop improvement plans, inspection reports can help to give structure to improvement work as well as giving clinicians and managers the vigour to effect change.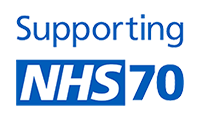 Individuals who have made a difference
As our contribution to the celebrations of 70 years of the NHS, we have brought together stories highlighting individuals who made a significant impact on the care people receive.
While it's the NHS that's celebrating a birthday, the people working alongside it in adult social care have also played a vital and integral role.
This collection of short case studies is part of a series highlighting the work that individuals - from volunteers, to front line staff to senior leaders - have done to deliver great services across acute and mental health NHS trusts, primary care and adult social care.
Driving improvement: Individuals who have made a difference in NHS trusts