You are here
Driving improvement: Case studies from 10 GP practices
Driving improvement: Case studies from 10 GP practices
Categories:

Organisations we regulate,
GP and GP out-of-hours services
We interviewed 10 GP practices that had achieved a significant improvement on their rating.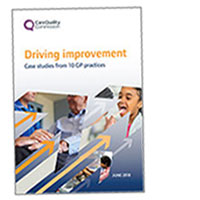 We spoke with GPs, practice nurses, clinical staff, practice managers, administrators and patients.
Their experiences show that improvement is possible.
The case studies highlight some clear actions that other practices can use to help them learn and improve.
---
Key themes
The practices in this report faced similar challenges. They all showed an impressive commitment to improve their service to patients. To achieve this they shared common experiences:
strong leadership from a practice manager with the time and skills to lead the practice team
addressing staffing and training issues such as poor recruitment or training practices
making sure every member of the practice team understood their own and others roles and responsibilities
involving the whole team in running the practice
involving patients and the local community
using external support to help improvement
Last updated:

13 June 2018
---
Help us improve this page