Page last updated: 12 May 2022
Everybody has a right to good care. Much attention is rightly focused on poor care, but it's also important to recognise where care is good and to celebrate the services that are getting it right.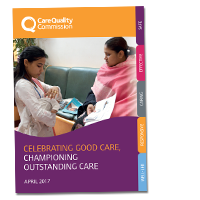 Some care providers do things well through innovative ways of working or by doing the basics well. Others can learn from them and solutions should be shared across the system.
What we found
Our State of Care report shows there is considerable variety in the quality of care provided in England.
Among the best care we have found is in services that acknowledge there is always room for improvement – they are proactive, seeking feedback on their services and learning from concerns and complaints.
Our report includes a collection of short case studies illustrating some of the qualities shown by care providers that are rated good or outstanding overall. It also shares the views of some people responsible for care quality and what they do to drive improvement.
What underpins good and outstanding care?
We found that good leadership is a central part of improvement, and that improvements in the quality of care people are receiving are happening despite tight financial constraints and increased demand across the sectors.
Also important is the way care services in an area work together – our inspections look at this, and the NHS England Five Year Forward View has recognised that the country is too diverse for a one-size-fits-all care model to apply everywhere.
New technology is influencing the way health and care services are delivered – and so health and care services are changing too. Technology is transforming care for some people, and no doubt this will continue to develop.
In this report and via other reporting methods, we will share good practice where we find it and signpost excellence for other providers.
Previous reports