You are here
State of Care 2017/18 published
State of Care 2017/18 published
Published:

11 October 2018

Categories:
This year's State of Care finds that most people receive a good quality of care, but that people's experiences are often determined by how well different parts of local systems work together.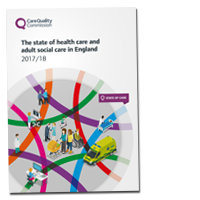 State of Care is our annual assessment of health and social care in England. The report looks at the trends, shares examples of good and outstanding care, and highlights where care needs to improve.
This year's report finds that some people can easily access good care, but others cannot access the services they need, experience disjointed care, or only have access to providers with poor services.
By looking at local health and care systems, we found that it was harder for people to access services in the community in places where services failed to work well together. In turn, this can lead to unnecessary admissions to hospital, putting extra pressure on acute and mental health services.
5 factors affecting the sustainability of good care
The challenge for all local health and social care organisations is to understand the needs of local people and to work together to find sustainable solutions that put people first.
We looked at 5 factors that affect the sustainability of good care for people:
Access to care and support
Quality of care for people
Workforce to deliver care
Capacity to meet demand
Funding and commissioning
Last updated:

07 November 2019