You are here
New report looking at people's experience of care during a mental health crisis
New report looking at people's experience of care during a mental health crisis
Published:

12 June 2015

Categories: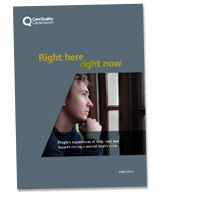 Today we've published Right here, right now, a national report looking at people's experiences of help, care and support during a mental health crisis.
The report is based on feedback from almost 1,800 people with experience of a mental health crisis, along with local area inspections looking at how services work together, surveys of service providers and a review of national data.
We found that the quality of care experienced by a person in crisis can vary greatly depending on where they are and what help they require. Many people also experienced problems getting help when they needed it, and found that healthcare professionals sometimes lack compassion and warmth when caring for people who are having a crisis.
Other findings include:
Many people will go to see their local GP first when they are having a mental health crisis. The majority (60%) of people who visited their GP during a crisis were satisfied with the experience.
Most people reported that they came into contact with at least three different services when they had a mental health crisis. One in twelve (12%) said that they had come in to contact with between six and ten services, which indicates a need for them to work more closely together in areas.
The use of police cells as a 'place of safety' for people in crisis has fallen significantly, but we found that people under 18 can have problems accessing suitable places of safety. In 2013/14, nearly a third of people under 18 who were detained, were taken into police custody.
Talking about the findings, Dr Paul Lelliott, Deputy Chief Inspector of Hospitals and our lead for mental health, said:
"It is not acceptable for people with mental health problems to be treated differently to those with physical health problems.
"These findings must act as a wake-up call to our public services. We found some excellent examples of services in areas joining-up and providing effective care, with staff committed to working to make sure people in a crisis received the help they needed."
Last updated:

29 May 2017