You are here
Hello my name is
Published:

23 July 2019

Categories:
Today is #hellomynameis Day – an international campaign in memory of Dr Kate Granger MBE. We are starting to use 'hello my name is' badges during inspections to support this campaign.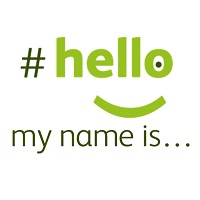 Dr Granger started the 'hello my name is' campaign in August 2013. As an inpatient with terminal cancer, she was frustrated by how many care staff failed to introduce themselves to her. Her campaign asks frontline NHS staff to introduce themselves to their patients.
Dr Grainger used a blog and social media to share her experiences and gain support for #hellomynameis. Over 400,000 health workers from across the world now back this initiative for more personalised care.

We recognise that the #hellomynameis campaign values are similar our own. They both focus on prompt and effective patient communication. This starts with a simple introduction.
Nigel Acheson, Deputy Chief Inspector for Hospitals, said:
"I completely share Dr Granger's view that an introduction is not "just about common courtesy, but it runs much deeper."
"We have the privilege and responsibility to engage with patients, their families and the staff providing care during our work. It seems completely appropriate and a natural step for CQC to sign up to the #hellomynameis campaign.
Last updated:

23 July 2019