Page last updated: 12 May 2022
To celebrate 70 years of the NHS, we have published 70 stories highlighting individuals who have gone 'over and above' and made a significant impact on the care people receive across health and social care services.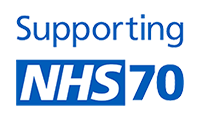 Importantly, while it's the NHS that's celebrating a birthday, these stories include people working alongside NHS services in adult social care who we know have also played a vital and integral role.
This collection of 70 case studies highlights the work that individuals - from volunteers, to front line staff to senior leaders - have done to deliver great services in hospitals, care homes, GP practices and elsewhere.
We asked providers to tell us about people in their organisations who they felt were especially worthy of mention; those whose efforts have directly impacted on the success of the service or whose work has shown caring and commitment to people who use services at its best.
Their stories are brought together on our website to recognise their achievements and to inspire others working in health and social care services across England.
Read case studies highlighting the work that individuals have done to deliver great services in the following sectors: