Page last updated: 12 May 2022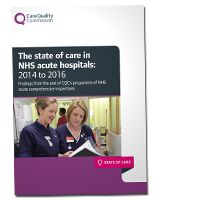 Today we have published a new report on the findings from the first round of acute and specialist hospital trust inspections.
The report captures the learning from our comprehensive inspections of all 136 acute non-specialist and 18 specialist trusts which have provided a more detailed understanding of the quality of NHS care than ever before.
Our analysis shows variation both in the quality of care between hospitals and between individual core services within the same hospital, but also highlights a number of hospitals trusts that have been able to make practical changes to the way they deliver care in order to benefit patients.
Professor Sir Mike Richards CQC's Chief Inspector of Hospitals, said:
"We have now inspected every hospital in England and have a unique picture of the quality of care, right down to individual core services. We have witnessed some fantastic care and examples of innovative practice, but we have also found a wide variation in quality both between hospitals and between services within the same hospital.
"What is clear is that while staff continue to work hard to deliver good care, the model of acute care that once worked well cannot continue to meet the needs of today's population. The NHS now stands on a burning platform – the need for change is clear, but finding the resources and energy to deliver that change while simultaneously providing safe patient care can seem almost impossible.
"What this report demonstrates, however, it that transformational change is possible, even in the most challenging of circumstances – we have witnessed it, and seen the evidence that making practical changes to the way that care is delivered can benefit patients."
Now that we have inspected all acute NHS trusts, we have a baseline for quality which we will use to feed into our future approach to regulation of the sector.