You are here
Maternity care experiences: Sana's story
Maternity care experiences: Sana's story
Categories: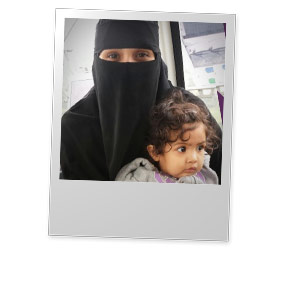 Sana, mum of three, speaks to CQC about her experiences of maternity care.
On the Monday before the birth of my oldest son, I started to feel pain. By midnight on the Tuesday, I felt the contractions starting. At first, it was a frequent sharp pain but quickly developed into an intense pain.
At that point, I knew it was time to get to the hospital and I was feeling pretty anxious. When I arrived, I had a quick check-up and the midwife told me that I was probably suffering from a urine infection and to calm down. But I was pretty sure the baby was coming. Finally, another midwife came in and did a full check-up only to discover I was already fully dilated! I gave birth a few hours later.
My second pregnancy was a bit more complicated as I was diagnosed with Strep B early in the pregnancy. I went into labour with my second son quickly, giving birth to him 10 minutes after I arrived at hospital. Because the labour was so rushed, I wasn't given the antibiotics I should have received to ensure I didn't transfer the Strep B to my son, causing me a lot of distress.
After the birth I wasn't cleaned up straight away or helped to the shower. I also felt that my surrounding weren't tidy and clean. This left me feeling very uncomfortable.
Nearly 38 weeks into my third pregnancy I was involved in a serious car accident caused by a drunk driver. I was sent to A&E to get checked out and thankfully, the baby was fine. But the trauma of the accident caused me to feel that I was going into labour. The midwife let me know that I was suffering from Braxton-hicks contractions and I was sent home.
A few weeks later I started having real contractions, and like my previous pregnancies, the labour was very quick. When I arrived at the hospital they were in the middle of a shift change, so the suite I was shown to hadn't been prepared. While I waited for someone to prepare the room, I rested on the sofa bed in the room. Five minutes later, I gave birth to my daughter on the sofa bed. This pregnancy in particular was very traumatic, as I saw everything as it was happening and it was very rushed.
Although I had issues with the cleanliness levels in hospital, throughout all of my pregnancies I had great experiences with both the community and hospital midwives. My midwives were extremely caring and were exceptionally good at their jobs.
Last updated:

29 May 2017