You are here
Business plan 2018-19
Categories:
Our business plan for 2018-19 sets out 9 key priorities for us to deliver. It builds on our strategy for 2016 to 2021, published in May 2016.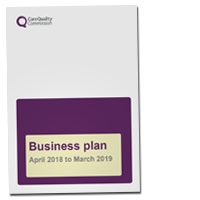 Our plan reflects what we see as the most critical things for our organisation, but also the views of our stakeholders, including the NAO and Public Accounts Committee. Our priorities align with the NAO action plan that our Board agreed in December 2017.
The year ahead
We have a significant task in 2018/19. We are delivering a further phase of change to take us through to 2021. The priorities set out this plan will enable us to further implement a responsive model of inspection with improved information for the public. They will also help us provide greater efficiency for ourselves and providers.
The plan will also help us to manage ourselves more effectively, so we are better able to encourage improvement, innovation and sustainability in care.
As a result of our work in 2018/19:
Increasingly, providers should have a clearer understanding of our expectations and a better online experience, and an intuitive system that encourages them to supply information not already available to us.
The public will see information that continues to help them make decisions about care, not only from inspections but from our work monitoring providers before and between inspections.
Our staff will have timely, accurate data with better insight, and better technology so they can perform essential aspects of their work, especially when mobile. They will also have increasing expertise so they have the skills and experience to make the right improvements to the way we work.
The 9 priorities
1 – Transform registration
So it focuses on high-quality, supports innovation, and uses a risk-based approach that is better for providers

2 – Ensure we are able to respond to changing models of care, including use of new technology
So we can effectively register and inspect them

3 – Develop our approach to assessing the quality of care in a place
Enabling improvement, and efficient information gathering and sharing

4 – Roll out changes to the regulation of independent health providers
Inspection frequency based on ratings for some and other changes in line with what we have done in other sectors

5 – Strengthen our independent voice and engagement
Including building relationships with local stakeholders to maximise intelligence to support our inspectors

6 – Deliver our digital programme
User-focused technology that drives efficiency

7 – Enable CQC to become intelligence-driven
Making best use of data about quality of care to deliver enhanced insight, and an always-on service to collect information from providers

8 – Develop a quality improvement culture within CQC
Transfer expertise in quality improvement to staff so they have skills and experience to make improvements to the way we work

9 – Improve the experience of our staff
Increase staff engagement - ensure we continue to have people with the right skills and experience

Risk register
Our risk register sets out the risks that would prevent us delivering our purpose, and actions being taken to manage these risks. A quarterly update is presented to the board.
Risk tolerance statement
Last updated:

7 June 2018
---
Help us improve this page