You are here
COVID-19 Insight 10: Our data
COVID-19 Insight 10: Our data
Categories:
Deaths notified by care homes

The chart shows the number of death notifications of people in care homes flagged with Covid-19 submitted each day up to 30 April 2021, with a seven day moving average line showing the smoothed trend. The numbers of deaths appears to have peaked in mid-January and have been steadily falling since then.
Deaths of people detained under the Mental Health Act
All providers registered with CQC must notify us about deaths of people who are detained, or liable to be detained, under the MHA.* From 1 March 2020 to 30 April 2021, we have been notified of 165 deaths that mental health providers indicated were suspected or confirmed to be related to COVID-19 (an increase of 6 since we reported in March). A further eight COVID-19 related deaths of detained patients were reported by other (non-mental health) providers (an increase of one since we last reported).**
* Includes detained patients on leave of absence, or absent without leave, from hospital, and conditionally discharged patients. 'Detained patients' also includes patients subject to holding powers such as s. 4, 5, 135 or 136, and patients recalled to hospital from CTO. These counts may also include notifications about the deaths of people subject to the MHA who are in the community and not in hospital.
** Data on notifications may be updated over time and therefore successive extracts may lead to changes in overall numbers unrelated to new cases.
The chart shows the number of deaths by week of death.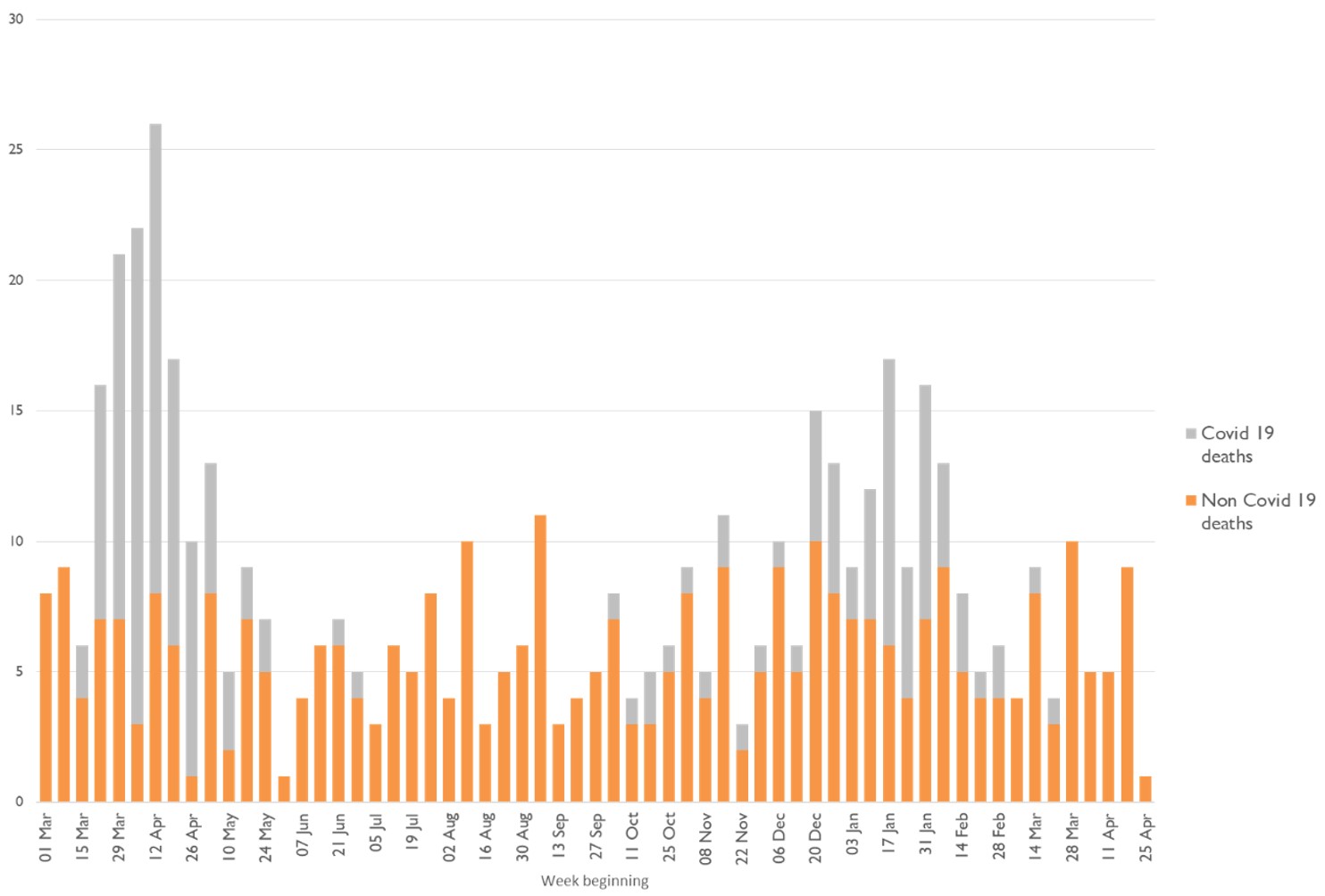 Of the 522 notifications from mental health providers in the 2020/21 period (covering all causes of death from 1 March 2020 to 30 April 2021), 415 were from NHS organisations, of which 125 deaths were indicated as being COVID-19-related, and 107 were from independent providers, of which 40 deaths were COVID-19-related.
We have identified 31 detained patients whose deaths have been notified to us from 1 March to 30 April 2021 who had a learning disability and/or were autistic: the majority (20) were not identified as related to confirmed or suspected COVID-19. Of these people, most also had a mental health diagnosis. Please note that these patients were identified both from a specific box being ticked on the notification form and a review of diagnoses in the free text of the form.
Table showing all deaths of detained patients from 1 March to 30 April 2021, by age band and COVID-19 status

| Age band | 16-17 | 18-24 | 25-34 | 35-44 | 45-54 | 55-64 | 65-74 | 75-84 | 85+ | Unknown | Total |
| --- | --- | --- | --- | --- | --- | --- | --- | --- | --- | --- | --- |
| Suspected or confirmed COVID-19 | 0 | 1 | 4 | 8 | 11 | 29 | 39 | 48 | 22 | 11 | 173 |
| Not COVID-19 | 3 | 14 | 37 | 34 | 48 | 63 | 61 | 56 | 19 | 48 | 383 |
| Total | 3 | 15 | 41 | 42 | 59 | 92 | 100 | 104 | 41 | 59 | 556 |
Table showing all deaths of detained patients from 1 March 2020 to 30 April 2021, by gender and COVID-19 status

| Gender | Female | Male | Transgender | Unknown or unspecified | Total |
| --- | --- | --- | --- | --- | --- |
| Suspected or confirmed COVID-19 | 55 | 104 | 0 | 14 | 173 |
| Not COVID-19 | 116 | 216 | 1 | 50 | 383 |
| Total | 171 | 320 | 1 | 64 | 556 |
Table showing all deaths of detained patients from 1 March 2020 to 30 April 2021, by ethnicity and COVID-19 status

| Ethnicity | Suspected or confirmed COVID-19 | Not COVID-19 |
| --- | --- | --- |
| Asian | 7 | 8 |
| Black | 21 | 30 |
| Mixed | 7 | 8 |
| Other ethnic groups | 1 | 3 |
| White | 97 | 232 |
| Unknown | 33 | 81 |
| Not stated | 7 | 21 |
| Total | 173 | 383 |
Table showing all deaths of detained patients from 1 March 2020 to 30 April 2021 by place of death and COVID-19 status

| Place of death | Suspected or confirmed COVID-19 | Not COVID-19 |
| --- | --- | --- |
| Medical ward | 119 | 121 |
| Psychiatric ward | 39 | 123 |
| Hospital grounds | 1 | 6 |
| Patient's home | 0 | 36 |
| Public place | 0 | 7 |
| Other household | 0 | 3 |
| Other | 3 | 43 |
| Not stated | 11 | 44 |
| Total | 173 | 383 |
ONS data on all weekly deaths in England (COVID and non-COVID) compared with the average for 2015-2019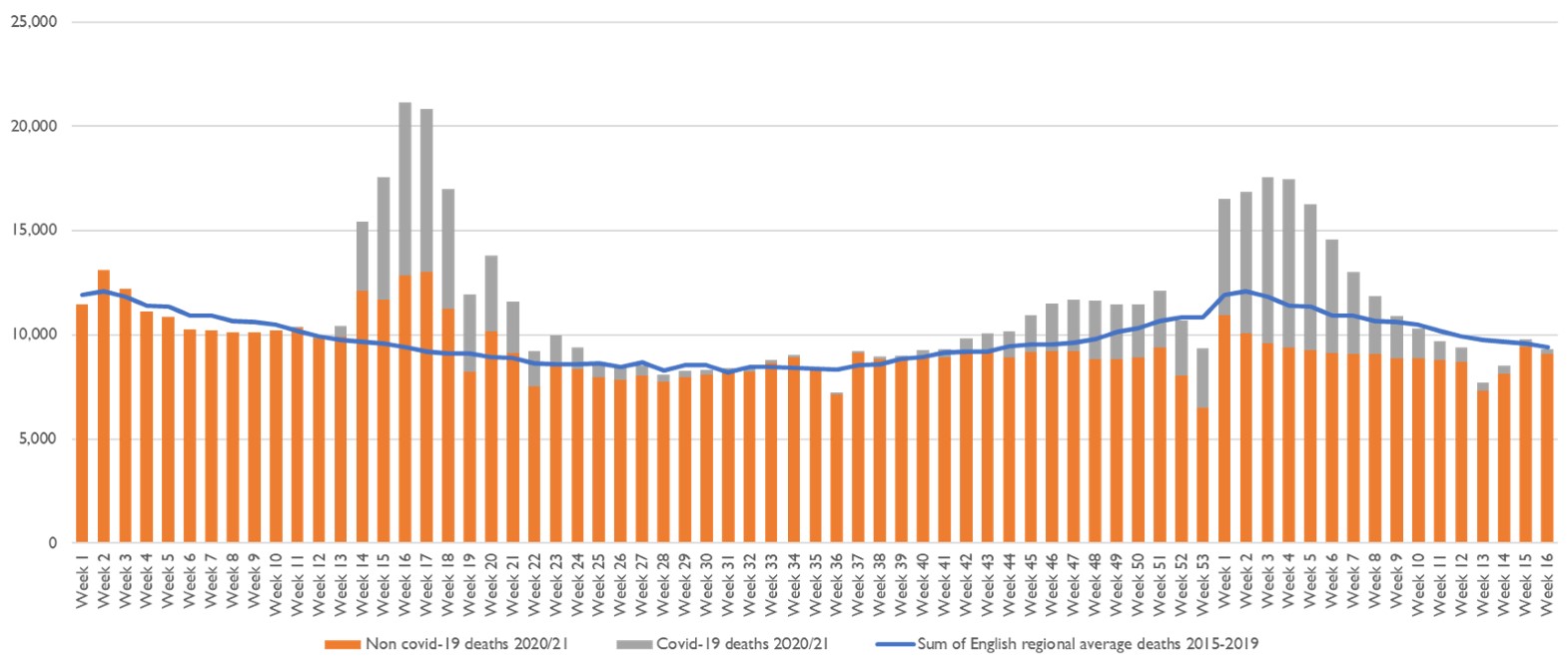 Last updated:

19 May 2021