You are here
The safer management of controlled drugs
The safer management of controlled drugs
Categories:
We are responsible for making sure that health and social care providers, and other regulators, maintain a safe environment for managing controlled drugs in England.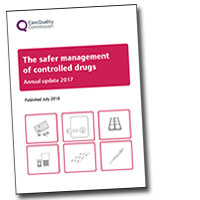 We report on our work in 2017 in monitoring the effectiveness of controlled drug local intelligence networks (CD LINs) across England, and in leading the National Group on Controlled Drugs and the Cross-Border Group for safer management of controlled drugs. In response to feedback from members attending CD LIN meetings, we have also included some of our common findings on inspection.
The update for 2017 also presents data on prescribing of controlled drugs across England in the primary care sector, and shows trends over the last 10 years. We also make recommendations to improve and strengthen the management of controlled drugs in health and social care services.
There is a separate report on activity in 2017 from member organisations in the Controlled Drugs National Group and Cross-Border Group
Previous safer management of controlled drugs reports
Last updated:

20 July 2018
---
Help us improve this page