You are here
Annual report
Categories:
In 2015/16 we completed the final year of a three-year journey to transform the way the quality of health and social care in England is regulated.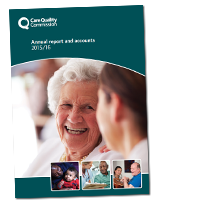 We are making good progress towards completing comprehensive inspections of all the services we rate, and we are building a powerful baseline understanding of the quality of care in England across health and social care. We are seeing evidence that this work is encouraging improvements in care.
At the same time we have put a lot of focus into strengthening our systems and processes, making sure we use our resources as effectively as possible, and looking to reduce the requirements we put on those we regulate.
We published our new five-year strategy for 2016 to 2021 following a year-long conversation with our partners, providers, stakeholders and the public. The strategy sets out our ambition to be a more targeted, responsive and collaborative regulator so that more people get high-quality care.
CQC timeline 2013 to 2021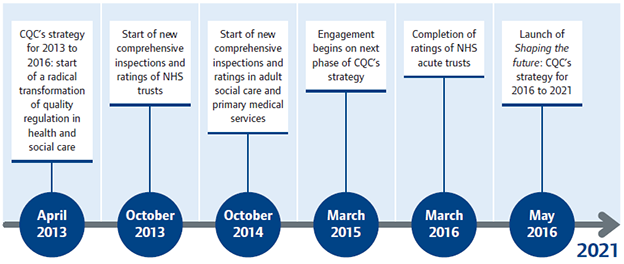 Ratings as at 31 March 2016*
Adult Social Care directorate
(locations)

Hospitals directorate**

Primary Medical Services directorate
(GP practice locations)
* These ratings figures include providers and locations where we inspected and then published an inspection report. During the year, small numbers merge or close; as a result not all of the providers and locations included in these rating figures will still be providing services.
** Hospitals directorate ratings include: NHS acute and independent locations, and NHS mental health and community trusts.
---
Last updated:

29 May 2017