You are here
Map of health-based places of safety
Map of health-based places of safety
Categories:
This map shows the location of designated health-based places of safety in England for people detained under section 136 of the Mental Health Act.
What is a place of safety?
Section 136 of the Mental Health Act allows for someone believed by the police to have a mental disorder, and who may cause harm to themselves or another, to be detained in a public place and taken to a safe place where a mental health assessment can be carried out.
A place of safety could be a hospital, care home, or any other suitable place where the occupier is willing to receive the person while the assessment is completed. Police stations should be only be used in exceptional circumstances.
Health-based places of safety are most commonly part of a mental health unit on a mental health hospital or acute hospital site, or part of an accident and emergency department in an acute hospital.
Unless the place of safety is an A&E department, it will not usually be available to people who have not been detained by the police.
Using the map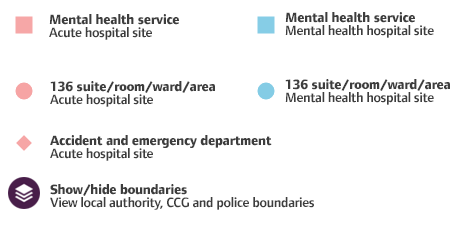 Click a marker to bring up contact information for that health-based place of safety, details of opening hours, capacity (number of beds), the age groups accepted, and the upper tier local authorities it is intended to serve.
Click on another area in the map (when the local authority boundary option is ticked) to bring up information about the health-based places of safety which serve that area.
The map shows the boundaries for local authorities, police force areas and clinical commissioning groups. You can remove or add these using the tick boxes.
The data in this map was last updated on 7 August 2017.
More information
Right here, right now, our review of mental health crisis care.
You can download the data that populates the map in the document below.
Or read about the Mental Health Crisis Care Concordat on the GOV.UK website.
Last updated:

16 August 2017