You are here
The CQC widget – help and frequently asked questions
Categories:

Organisations we regulate
CQC widgets – an introduction
CQC widgets let anyone embed our information on their own website. Each place that we regulate has its own widget that shows a summary of the results of our latest checks along with a link to its full profile on this website.
The widget for Royal Derby Hospital is shown above.
Who can use the widget?
Anybody can use the widget as long as they abide by our terms and conditions. However we expect three main groups of people to be particularly interested in using the widget:
CQC regulated providers who have to comply with the requirement to display their ratings on their website. More information.
CQC regulated providers who are not yet rated by CQC or who are exempt from the requirement to display ratings but who want to indicate on their website that that they are regulated and inspected by us.
Online directories that give information to members of the public choosing health and social care.
Use of the widget by organisations rated by CQC
If you have been rated by CQC, you are required by law to display your ratings on your website.
We strongly recommend that you use the widget to display your ratings on your website. It is the most effective way to meet the requirements of the regulation, as it displays all the information required, links to the relevant page on the CQC website and updates automatically if the widget is upgraded.
Use of the widget by organisations regulated by CQC but not yet rated
If you have not yet been rated by CQC or are exempt from the requirement to display ratings, putting the widget on any website is entirely optional. Also, if you put it on your site you can take it off at any time.
The number of widgets you should display
Depending on your organisation, you may need to display more than one widget, particularly if you have been rated by CQC. Your website should display:
the overall rating awarded at provider level, where applicable – for example, if you are an NHS trust
the overall rating(s) for all your premises, where applicable – for example, for all hospitals or care homes
Putting a widget on your website
Find the service or provider on the CQC website (use the search at the top of this page).
Click on the "Put this information on your website" link (at the bottom of the section).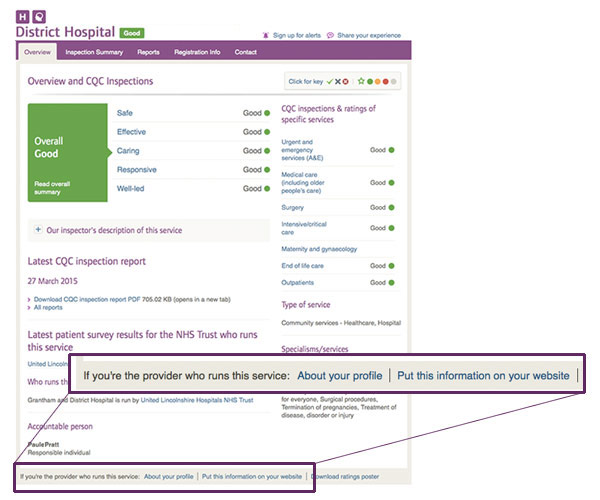 Enter your email address.
Copy the embed code.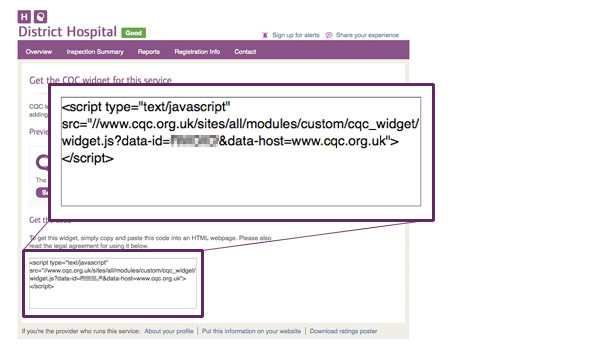 Find the page on your own website where you want to embed the widget
Paste the embed code into the source code of your website (i.e. in the body HTML of the webpage). The person who maintains your website should be able to do this.
Advanced troubleshooting
If you're experiencing problems embedding the widget into your website or with how it's displaying, try following the steps below.
Create a new file in Notepad or any text editor
Add start and finish <html> and <body> tags
In between the <body> tags, insert the widget code (see the third image below).
Save the file as "widget.html", upload it to your server and view the page in a web browser. In case of a standard out-of-the-box Apache webserver, view http://localhost/[location]/widget.html. If the widget doesn't display, make sure the server is running. If you have uploaded the page to your remote webserver, the address will look something like http://www.yourwebsite.org.uk/widget.html
Please note that we do not provide any support on how to install/uninstall/configure/run a webserver on your local machine. If the webserver is up and running and the widget still doesn't display, try viewing the page in different browsers (for example Google Chrome, Firefox, etc.) before logging a support request with us.
If the steps above resolve the problem, it's likely that the issue is with the way you've embedded the widget into your website, or with how your website is configured to accept HTML. You may need to talk to your website administrator or hosting provider for more help.
Removing the widget from your website
Simply remove the code from the source code of your website. However, if you are using the widget to display your ratings, it is not advisable to remove the code unless you have an alternative method to display ratings, which is as effective as the widget.
Terms and conditions for using the widget
Use of the CQC widget on a website implies the following legal agreement between you and CQC
What you can do
You can use the widget to display summary information about any location that CQC regulates.
You can use the widget whether or not your service is run for profit.
What you can't do
You can't use it in any way that would deliberately mislead people.
You can't modify it in any way.
You can't use it any way that would bring CQC into disrepute.
You can't sell it or sublicence it.
You can't use it in any way that could intentionally damage or overburden the CQC website.
You can't put anything around the widget that implies that CQC endorse you or your service.
Other conditions of use
It is designed to be used in conjunction with the CQC website. Accordingly, use of the widget is also governed by the CQC website's Terms & Conditions and Privacy Statement.
Disclaimer of warranties
We make our best efforts to make sure the widget is always available and provides accurate information, but it is provided "as is", with no warranties.
Limitation of liability
CQC disclaims any responsibility for any harm resulting from your use of the widget.
You understand and agree that you access and/or use the widget at your own discretion and risk, and that you will be solely responsible for any damages to your computer system or loss of data that results from accessing or using the widget.
---
Frequently asked questions
How do I search for my organisation's pages on the CQC website?
From the dropdown at the top of every page on the CQC website, select the type of service that applies to your organisation, type the name of your service as you registered it with CQC and press "Search"
Click on the desired service in the search results to get to open the overview page for that service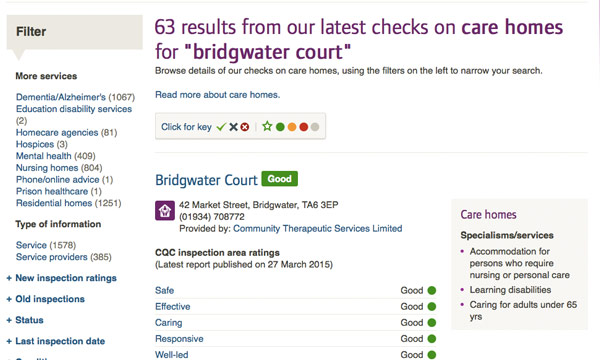 The Overview page
I have pasted the widget code into my existing webpage that has various other items on it. Everything shows except the widget. Why?
Apart from making sure there is no syntax/typing error in the widget code, check if there are any <div> tags around the widget code. If there are, make sure their 'display' property is not set to 'none' or 'visibility' is not 'hidden'. If you're using CSS, double check the same in the CSS file.
I am using a content management system where I am pasting the widget code into the HTML/Code window – why doesn't the widget show on the front end?
By default, in most content management systems, the option to add any scripting language code can be restricted to a particular type of users. The CQC widget, like many other widgets, has a JavaScript code that requires any restrictions on the script to be lifted. The solution to this would be to contact your CMS admin/super admin and request them to allow using script on your pages.
Why doesn't the widget show in all browsers?
We have tested the CQC widget in various browsers at the time of development. These include Firefox, Chrome and IE 8, 9, 10 & 11. The list of supported browsers increases as we get more requests. If the browser you're using is a commonly used browser and the widget doesn't show on it, you can send us a request and we can look into how we can support it.
I work in adult social care and the widget is not showing ratings for some of our services – why is this?
The first wave of new-style inspections of adult social care (undertaken early-mid 2014) were not reported in the same way as subsequent inspections. These were awarded old-style judgements such as 'No action required', 'Improvements required', or 'Enforcement action'.
It is still possible to embed the widget for such services, but it will not display outcomes as these are not true new-style ratings. They will indicate an inspection took place and will link to the relevant page on the CQC website so users can find out more.
If I use the widget on my website how do I make sure that I'm told if there are any problems with the service?
We recommend you either follow us on Twitter or subscribe to our widget newsletter below. This will allow you to stay up to date with any changes we make to the service or any technical problems we have with it.
How do I get in touch with the people that run the widget at CQC?
You can email us at widget@cqc.org.uk or tweet us at @CQCwidget.
Can I see some examples of how the widget has been used by other people?
If you're interested in using the widget and want to see some examples of sites that use it, please email us at widget@cqc.org.uk.
How do I suggest improvements or changes to the widget?
We are keen to know what people like and don't like as well as hear ideas from people who use the widget about how it could be improved. Just email widget@cqc.org.uk or tweet us at @CQCwidget.
Are there any plans to update the widget/launch different widgets?
The widget has recently been updated to display ratings. There are currently no further plans to do further updates or launch different widgets, but we will be keeping it under review. Please let us know if you have any ideas.
Can I combine using the widget with downloading CQC's directory?
We make our directory of the places providing CQC regulated care available for download as a CSV file. Some people use this data to create directory websites of their own – and it's possible to include widgets on these directories.
If you download the CSV file, you'll see that each location in the directory has a "CQC location ID". We use this in the URL for each widget. For example the location ID for the Royal Free Hospital is "ral01" and the widget for the Royal Free Hospital is at http://www.cqc.org.uk/widget/ral01. Therefore, with a bit of technical knowledge it's possible to create a directory that shows live information from CQC.
Last updated:

29 May 2017
---
Help us improve this page